Managing payroll. It's a necessary evil for many small business owners. When you're already wearing so many hats – general manager, HR, marketing, and IT expert – overseeing payroll on top of it all can be tricky.
After all, payroll isn't a job that only needs occasional attention. It's something you must actively stay on top of…day after day, week after week, and month after month.
And if you're like most business owners, you manage it all yourself.
In fact, according to a survey conducted by the National Small Business Association (NSBA) in 2014, 60% of small business owners handle payroll on their own. Over 10% spend more than 10 hours each month just on payroll tax administration; 43% work on payroll for anywhere from 3 to 10 hours per month.
An employee is stealing from you.
Download our free ebook to eliminate your risk.
What's more is that NSBA discovered that nearly 25% of small businesses spent over 120 hours annually on employee tax issues alone.
That's three work weeks a year – not to mention a lot of time wasted! Don't you wish you could spend those hours on growing your business, rather than administrative hassles?
There's good news for you: Today, you can stop wishing. With technology, there are many different payroll programs out there that can relieve you of the time-consuming tasks associated with payroll management – so you're freed up for higher level work focused on growing your business.
Say goodbye to worrying about whether employees are falsifying time entries.

Goodbye to costly data entry errors and payroll mistakes.

And goodbye to spending hours calculating all of the taxes that need to be taken out, and dealing with the liability you can incur if you mess up.
Instead, with the right payroll program, you can manage timesheets in real-time and finish payroll in minutes, not hours.
But not all programs are created equal. Let's take a look at some different options so you can make the best decision for your small business.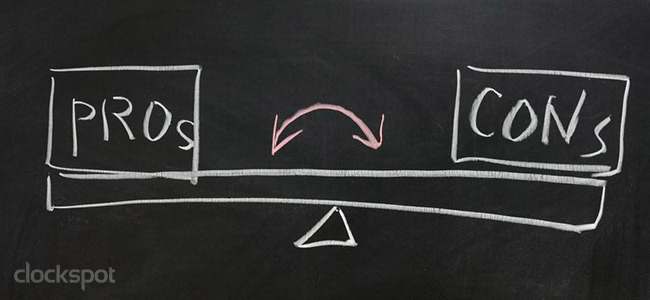 CLICK HERE to download our free PDF: Checklist for Selecting the Right Payroll Program for Your Small Business
Intuit Enhanced Payroll for Accountants
Many small business owners rely on QuickBooks when it comes to managing their books. It's a popular solution that over a million business owners use today.
And on the surface it makes sense to use it for payroll, considering it's right inside QuickBooks.
But while it may look like it saves time in the short term, it can be more complicated and expensive in the long run.
If you use an accounting software other than QuickBooks – Sage 50, for instance – you're going to have a hard time integrating and coordinating information across the different programs.
In addition, while Intuit appears affordable compared to other options, they also charge for add-ons to your plan – which can add up fast. For instance, you pay extra per month for each additional state where you do business and have employees. You also pay more if you want employees to log their own hours online.
Kronos Workforce Central
Kronos offers software to help small business owners manage payroll, time, attendance and scheduling. The company also offers resources to help your business adapt and comply with the ever-changing regulations and laws, like the new healthcare act.
Sound good? It should – it comes at a steep price. This solution is not cheap.
While it certainly varies depending on the number of employees you have on staff, it can cost well into the thousands of dollars. That can cut into company profits dramatically. And in addition to the cost, you may also require specialized equipment in order to use it.
Patriot Pay
Patriot Pay is another option designed for the small business market. With it, you can manage payroll and file federal and state taxes. However, like Intuit, you have to pay extra for important business functions, like direct deposit, report printing and online access to payroll.
In addition, it only supports up to 100 employees. That means if your business grows past over that 100-person threshold (which should be a celebration!), you'll have to deal with finding a new payroll program.
It doesn't seem worth it to take the time and effort to implement a program, only to have to change course as your business grows. It's easier to choose something from the start that will grow with you.
CenterPoint Payroll
CenterPoint Payroll is for small businesses who only need to automate payroll. But even though the features are pretty basic, prices start at $795. And if you need more functionality – like making tax payments through the system, you're out of luck.
Plus, some of the features they do offer are complicated to use, such as exporting reports to a PDF or Excel spreadsheet.
ADP Payroll
ADP has been around forever in payroll and HR. But just because a tool is trusted by others doesn't mean it's right for your business.
If you're thinking of using it for your small business's payroll management, you may want to think again. For small businesses, the cons outweigh the pros when it comes to such a big player.
Another obstacle? They can be slow to adapt and change their software, meaning your payroll program could be obsolete soon after you implement it.
Paychex
Another one of the "big boys," Paychex offers Paychex Flex, a payroll management program. But it's not where your business will get the most value.
For starters, it's pricey. Think fees beginning at $60 per pay period, just for payroll management. Secondly, if you do branch out into their other services, their business model is fractionalized. That means every service – payroll, benefits, retirement, etc. – is a separate business unit with different rules and account managers. This can lead to a lack of communication and inaccurate information.
You may be wondering at this point: Is there a technology out there that doesn't require a large investment and but still offers robust features that can grow with your business?
The answer is: Yes. It's called Clockspot.
Clockspot
Clockspot is a cloud-based time tracking system that helps you manage your payroll in minutes, not hours.
It's easy to plug into your current business workflow and gives employees the ability to clock in and out online without expensive handpunch systems. So it won't disrupt your team's existing processes and productivity.
It gives you, the business owner, the ability to review and approve timesheets from anywhere – anytime. And makes it easy to track leave balances, create invoices, and generate reports for faster payroll.
And Clockspot gives small but growing businesses access to enterprise-class software, for a fraction of the price. In fact, it's just a few dollars a month and requires no upfront investment.
The bottom line? If you're a small business owner managing payroll on your own, it can lead to costly mistakes. But when you outsource the process to a trusted provider, like Clockspot, you can improve efficiency and productivity – and focus on what really matters: Driving sales and innovation.