Thinking about investing in new time tracking software? Whether you're considering automating this for the first time ever, or you're seeking to replace an outdated system, you have a lot of solutions to choose from.
Where do you begin?



First, understand that not all time tracking programs are created equal. Some offer apps that can be accessed via smart devices, while others deliver advanced labor and cost management capabilities.
When it comes to decision time, you need to ensure the one you ultimately choose can help you improve staff productivity and reduce overall cost – without creating more red tape for managers and HR professionals.
What to Look for in Time Tracking Software

With so many time tracking softwares available, it can be a challenge to know which is right for your company. When shopping around, consider looking at solutions with the following 5 features:
An employee is stealing from you.
Download our free ebook to eliminate your risk.
Feature #1: Accessibility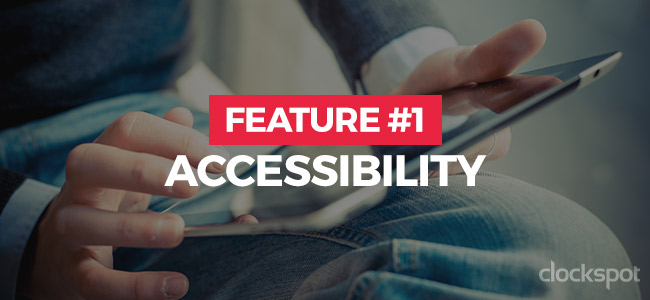 Since so many employees and managers work outside the office, whether at home or in the field, you really need a cloud-based system that's compatible with mobile devices so it can be accessed anywhere, anytime.
This is important because:
Employees can conveniently clock in and out (think 30 seconds or less), whether they're at their desktop in the office or at home on a tablet.

It lets you jump into the system, track time for teams or individuals, and quickly calculate PTO accruals, job costs, overtime, and more.

You can easily see who's working in real -time and ensure employees are where they're supposed to be, reducing the likelihood of time card fraud.
Plus, a cloud-based system means there's no expensive software to install and no complex set-up to deal with. You can be up and running in minutes.
Feature #2: Efficiency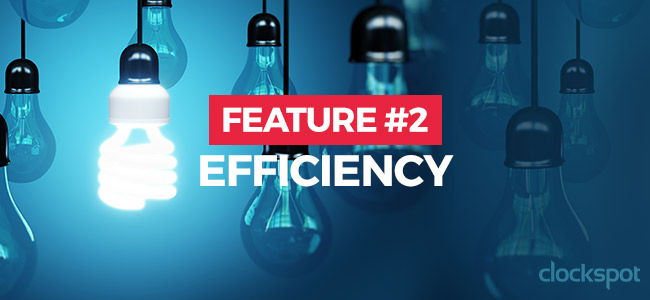 Even with dedicated, reliable employees, details can fall through the cracks -, resulting in missed deadlines and blown budgets. But the right time tracking software goes well beyond simple payroll functions, enabling you to better manage your employees, your deadlines and your projects.
How?
Beyond tracking employee hours, you can also track work sites, cost codes, labor distribution, budgets, equipment and more. You can also pull essential data and use it for budgeting and bidding purposes.
Whether your workforce is in the office or in the field, you have the advanced data you need to ensure everyone is working as efficiently as possible. You can also better manage expectations on time and within budget – sending your performance through the roof.
Put simply: The right time tracking software can give you access to good data so you can make great decisions. No spreadsheet required.
Feature #3: Easy Exporting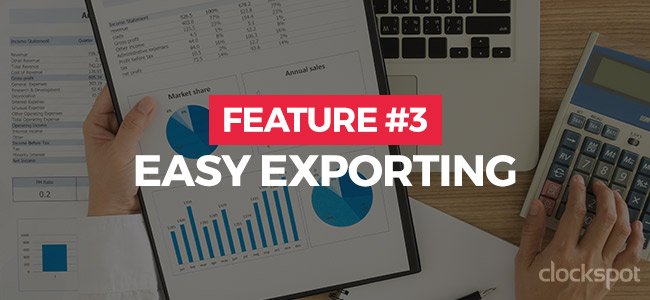 You have a team to manage and a department to run. The last thing you want is to get slowed down by clunky exporting.
Your time tracking program should allow you to export to a number of payroll and accounting platforms, or to your payroll service provider or assistant, in a couple of clicks.
If you use software like FreshBooks or QuickBooks, your time tracking tool should also integrate with that to make the export process even easier.
Feature #4: Security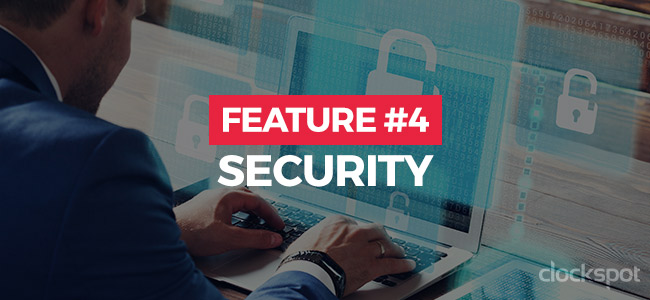 It's going to happen. If you have a network of computers, they will crash or get hacked at some point. As a result, you could lose invaluable data – like employee time records.
But of you're in the cloud with your timekeeping records, this doesn't have to spell disaster for your business.
That's why it's vitally important to make sure your time tracking is encrypted and protected by SSL encryption and backed up every day by a reputable cloud hosting provider, like Rackspace.
Another security feature to look for is the ability to quickly create and manage roles and permissions, as well as keep track of every change made to a timesheet. That way, you can always go back and see which times were edited or deleted, when and by whom. Innocent mistakes are quickly rectified and fraud is easily caught.
Imagine this scenario:
Your employees are required to clock in and out for the day, as well as for lunch. You have over 100 employees to manage, and try to monitor transactions for accuracy. However, you have one or two employees you suspect of buddy clocking – their friend / co-worker is punching in and out for them.
What can you do?
With cloud-based time tracking software, you can completely eliminate this kind of employee time card fraud. Many systems offer a speech verification feature that captures the unique physical characteristics of the human voice to verify the identity of individual employees as they attempt to clock in and out.
Problem solved.
And by eliminating time card fraud, you're saving money, too. According to the American Payroll Association, buddy clocking accounts for up to 5% of gross payroll costs. How much could it be costing your company?
In fact, in the case of a Vermont police patrol commander caught padding his time sheet, he cost the taxpayers $213,000 over the course of six years. Since then, more than 21 cases of possible time sheet fraud were being investigated by the Vermont State Police.
Did you know there's been a 423% increase in wage -and -hour lawsuits? Find out why…and what your company can do about it. CLICK HERE
Feature #5: Help and Support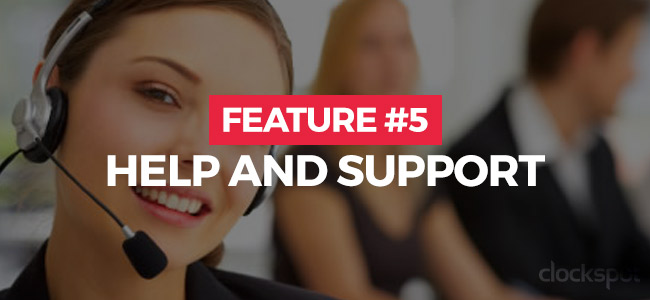 Jeff Bezos, the founder and CEO of Amazon.com, once said:
"We see our customers as invited guests to a party, and we are the hosts. It's our job every day to make every important aspect of the customer experience a little bit better."
Face it. Good customer service makes life a whole lot easier – and the "customer experience a little bit better." But it can be hard to come by.
Don't settle for anything less when you're scoping out time tracking software. It doesn't matter whether you have a quick question, or you're about to go nuclear over an issue, your time tracking software team should have dedicated support, standing by and ready to assist.
Shopping around for the right time tracking system…ironically…takes time. But the more you spend now assessing your options, the more you'll save down the line in frustration and wasted dollars.
Plus, you can equip your company with a solution that can scale with your business, help you boost employee productivity, and continue to meet your needs far into the future.