As a small business owner, you run a small but dedicated team of employees.
You have a tight-knit group, and you want your team to be productive, but still happy and satisfied.
But how do you do that?
And more importantly, how do you do that without sacrificing more time and spending even more money?
An employee is stealing from you.
Download our free ebook to eliminate your risk.
Tools and technology can help you keep your employees happy without compromising your business or your bottom line.
Let's take a look at how you can improve job satisfaction for your employees and keep them excited about working for you, and the tools that can help you get there.
1. Make processes easy

If you've ever seen the movie Office Space, you know what soul-killing jobs look like. What unhappy employees look like, and what little work they actually do.
That's what you don't want your employees to look like.
And you also know what kind of boss you don't want to be.
Start by taking a page right out of the movie and talk about timesheets.
Timesheets are only difficult if you make them that way. Like boss Bill Lumbergh says in Office Space, "From now on, you use the timesheets if you work on two or more job codes and you need the extra columns to fit it all in. Otherwise, use the old timesheets."
What?
Instead, make things incredibly easy for your employees – and yourself.
By using cloud-based time tracking software, employees can provide you with exact hours – without you having to chase anyone down for information.
In fact, your employees can track their own time, using any approved device from any location. This process is incredibly easy for them, but it's even easier for you. With just a few clicks, you can process payroll with accurate and up-to-date information.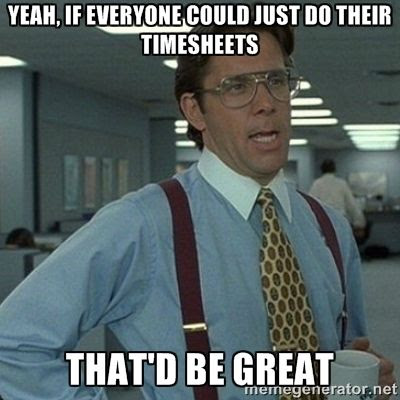 2. Give employees space

According to a study of thousands of managers and employees across the United States, approximately 1/3 of workers say that more workplace flexibility could make them more productive.
And it makes sense. When workers don't feel micromanaged and controlled, they're more relaxed and happier to get their work done.
Consider giving your employees some space, perhaps even letting them do some remote work. By giving your employees some freedom and flexibility, you can quickly build trust and loyalty. And by using smart tools like calendars, timers and tracking, you'll still know where everyone is and what they are working on.
Use tools to automate checking in, like:
BONUS: CLICK HERE to download a list of the top 12 software tools that help boost the productivity of your small business.

3. Waste less time on email

We know. Email is a great way to communicate and get things done.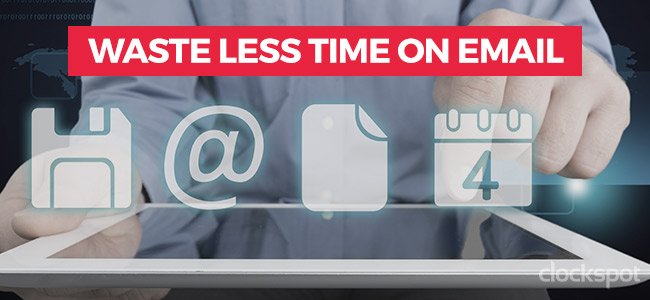 But email is a huge productivity killer. In fact, it's estimated that between professional and personal accounts, U.S. workers spend 6.3 hours a day checking email. That's almost the entire workday.
Help alleviate the urge to constantly check email by sending less of it. When employees receive constant emails, they get in the habit of constantly checking in and answering messages right away. This takes time away from their actual work.
Instead of email, consider a project management system that everyone can use to track their work.
These tools can automate processes and avoid constant check-ins:
When employees are happy, you're happy – and your business runs better. As a small business, employee satisfaction is especially important. Keeping your workers happy will keep them loyal and remain productive.
And the happier and more efficient your employees are, the more primed your business is to grow.
BONUS: CLICK HERE to download a list of the top 12 software tools that help boost the productivity of your small business.